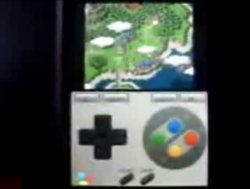 Those of you who have been waiting with baited breath to be able to play SNES games on your iPod Touch or iPhone can now let out a huge girlly squeal. Your prayers have been answered. That's because someone has coded a native SNES emulator for the iPhone and iPod touch.
Right now it's still in the testing phase, but in the near future I predict there will be many a broken iPhone as you press down way too hard on the virtual controller while playing Super Metroid and the like. Unless you care to make a donation to the developer, thereby scoring some beta testing, you'll have to try to contain yourself for the time being until the app goes public. Check out the video here.

Yes, I see many a trashed iPhone and hours of fun.
[Zodttd] VIA [Engadget]
Games, iPhone, iPod Touch, SNES