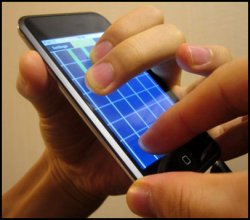 Let's face it, Guitar Hero is not nearly enough for some would be Rock stars out there. To them, everything needs to have the ability to be plucked, strummed and otherwise abused musically. And the air guitar only gets you so far before people start avoiding you like the plague. This is for those people.
The PocketGuitar is a virtual guitar for the iPhone and iPod Touch. It was developed as a Google Code project by Shinya Kasatani. You can also use the songs on your iPod for those long guitar sessions. Apparently, it's very easy to install. Now you'll have a whole new way to annoy those around you, while getting your guitar action on.

You can thank me later, after your hand cramps up. Surely this is the Golden Age of man or something, when you can play a phone like a guitar and it's considered not all that unusual.
[Google Code] VIA [Mobilewhack]
guitar, iPhone, iPod, PocketGuitar