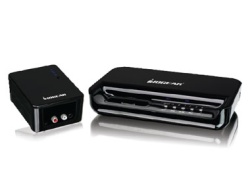 IoGear has introduced a new audio system at CES which makes use of Powerline technology to move sound from one room to another. It's called the IoGear Powerline Stereo System and price is set at around $330.
The IoGear Powerline Stereo System lets one connect an audio source such as an iPod or CD player to several different input types found on a docking station. Connecting a pair of powered speakers to the supplied adapter, one can transmit audio between the station and adapter over the home's power lines.
Consumers can plug up to four adapters into electrical outlets to distribute their music to several locations in a home or outside at up to a 990 foot range. An included remote lets you control audio functions. IoGear's new audio system should be out in stores now.
IoGear Powerline Stereo System
CES, Iogear, Powerline, Stereo System