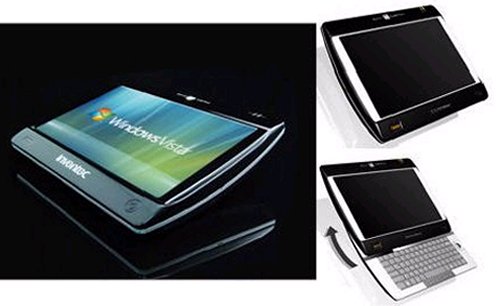 Inventec just released images of two new UMPCs. The UMPC 7-A and the UMPC 5-D won iF Design Awards honors, and you can see why looking at the above picture. The curved design of the UMPC 7-A is not just for looks, though it does look pretty neat. It is supposed to improve the viewing angle and make the slider QWERTY keyboard more ergonomic than a flat design.
The UMPC 5-D is more typical and focuses on a modular design. It comes with a docking station and a set of appliances of some type. No info on Inventec MID/UMPC specs so far, but the folks over at Unwired View took a guess at some. They are thinking an Intel Menlow platform, 1.33 with 45-nm 800 MHz-1.33 GHz Silverthone CPU, Poulsbo US15 chipset, 1-2 GB of RAM and 30-60 GB HDD. They might be right.

We will find out soon enough, but in the meantime, they look very promising. They should go into production this year.