| | |
| --- | --- |
| | |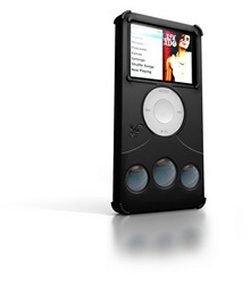 iFrogz announced the release of Thumpz, today at CES 2008 in Las Vegas. Thumpz is currently designed for the 3rd generation iPod nano and will also be available for the iPod Classic and incorporated into the Tadpole case. It's a 100% silicone case with speaker that gives you a compact, more stylish way to listen to music.
The new Thumpz uses a passive speaker technology that offers great sound without the added bulk of batteries. Just slide the iPod into speaker case and connect through the headphone jack. It only extends the length of the iPod about an inch. It claims to give you full protection and you can still share your music and videos without the need to remove the case or plug it into other speakers.

If you still want to listen on earphones, that won't be a problem. The Thumpz case has an earphone port at the bottom of the case. Just plug them in as usual. Thumpz is available in several cool colors including hot pink, green, red, black, gun metal grey, mint green, light blue, traditional pink and the black iFrogz Treadz. The Thumpz case retails for $24.99.