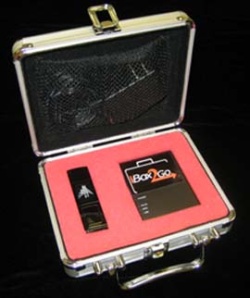 Say you have a group of people who need all to access the Internet wirelessly. A tech company using the brand iBox2Go has come up with a way to let you do this from about anywhere – an "Internet in a Box" kit. It is called iBox2Go and prices range from around $200 to $350 a month plus wireless charges.
The iBox2Go solution consists typically of a router with wireless connectivity, a high speed wireless modem card, external antenna and wall charger. The kit comes in three configurations depending upon your needs. The included wireless modem card ties you into Sprint and will work either in the special router or directly in your laptop computer.
The iBox2Go people say their kits "allows up to 10 users of desktops or laptops to share the mobile connection at speeds up to 3.1Mbps." While we have yet to test this claim it is an interesting idea to use one wireless modem card to create a wireless hot spot for others. Most of this kits are available now.