| | |
| --- | --- |
| | |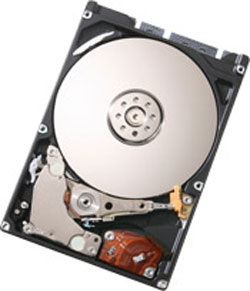 Hitachi is upping the stakes in notebook hard drive storage sizes as CES approaches by unveiling today the world's highest capacity 2.5-inch mobile hard drive. Expect to see the new 500GB Travelstar 5K500 showing up in laptops sometime in February.
The Hitachi Travelstar 5K500, which will also be available in a slightly smaller 400GB model, is the company's fourth generation mobile drive to use perpendicular magnetic recording technology. In exact storage terms you can fit on the 500GB drive up to 500 hours of digital video, 178 feature length movies, 250 games or 125,000 four-minute songs. These drives will be available with a 3.0Gb/s Serial ATA (SATA) interface and will include vibration protection technology against bumps which might impact system performance.
One of the first companies out of the gate with these new Hitachi drives will be ASUS. This company, in conjunction with Hitachi, announced its new M50 and M70 notebook PCs. The M70 in particular will be worth watching for since it will sport room for two Travelstar 5K500 drives, giving you a roomy 1TB of storage space.