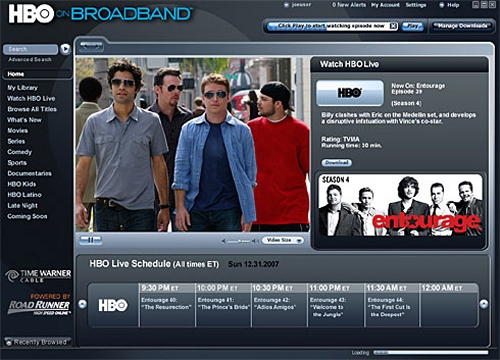 Starting Tuesday Time Warner's HBO will begin HBO On Broadband, a trial of a new online video download service bringing HBO content to subscribers' computers much like HBO On Demand does but with much more content. The new service will offer 400 hours of video content including 130 movie titles that can all be downloaded and viewed through a computer.
Before you get too excited about getting the Sapranos downloaded you'll want to note that this is starting out as a limited area trial and has some requirements. The HBO On Broadband service will initial launch only in the Wisconsin areas of Green Bay and Milwaukee with plans of expanding to other areas at a later time. Those residing in the eligible areas must also be subscribers to HBO's pay-cable network and must use their cable company as their internet provider, making the bundled services from the cable providers a more attractive prospect. The service is also limited to Windows systems.
Users of the service will be able to set up DVR-like features to schedule downloading of programs when the become available and take advantage of HBO exclusive programs which were previously only offered online as short clips, from anywhere with their computers.
via Reuters