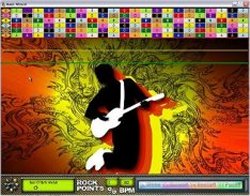 Allegro Rainbow's Guitar video game has been rocking CES this week. Music Wizard Group's Guitar Wizard video game is a step forward after their successful Piano Wizard title, but Guitar Wizard is not just another version of Guitar Hero. It's actually an educational video game that's designed to help kids of all ages to read and play music.
Guitar Wizard will be available on both PC and MAC platforms, and will come with an actual honest to God guitar from US Music Corp. and an Interface by SoundTech. Plus, the software is compatible with just about any MIDI guitar.

The company claims players will be rocking out and reading music in just minutes. I don't know about that, but I like the idea of an easy way to learn guitar.
CES 2008, Games, Guitar Wizard, guitars