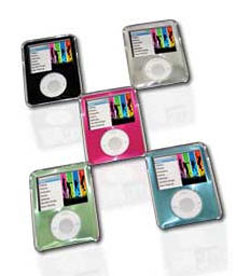 GizMac Accessories, a maker of add ons for iPods and iPhones, recently unveiled some new third generation iPod nano cases. These are called the GizMac Aluminate and GizMac DuraSport. Pricing is set at around $30 for both.
The GizMac Aluminate protects the nano in a mixed shell of aluminum. Built-in screen and click wheel protectors also exist. Accessories which come with the Aluminate include a lanyard and a carabiner clip.
The DuraSport, meanwhile, is more for the active lifestyle and is made of thin silicone. It includes a clear plastic face shield for screen protection. It includes the accessories of the Aluminate but also adds in an armband.
gizmac, iPod Accessories, iPod Cases, iPod Nano