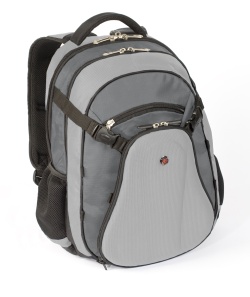 Targus wants you to enjoy your music as you roam down the street, sharing it as you go to others who may or may not want to hear it. The computer case maker has unveiled at CES the SonicPak, an audio backpack priced at around $100.
The Targus SonicPak is much like your typical gear carrying backpack with its padded compartment for laptop PCs, side mesh water bottle holders, adjustable, padded shoulder straps, molded carrying handle, oversized zipper pulls for easy gripping and a fully equipped interior workstation that includes plenty of pockets for your accessories.
Where it differs though is the built-in speaker system. The SonicPak sports removable front panel speakers, including a lightweight amplifier. You can connect your iPod or other digital audio device via an internal cable. You'll be rocking out with the SonicPak come March.