| | |
| --- | --- |
| | |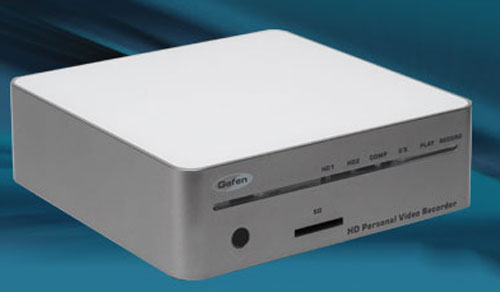 Gefen announced to the press via an email a few days ago its upcoming CES line up. Amongst the cables, switchers and other line items we noted something of interest: two personal video recorders. No specific release date was given for the items, now available for pre-order, but we did note there's a hard drive based PVR for around $1,000 and a USB memory device based one for around $650.
Gefen's HD-PVR, which will also connect to removable USB memory devices for storage, has a built-in 80GB hard drive. With this you connect the PVR to an HDMI enabled display, select the video source and function you want from the source inputs and off you go recording. Recording can be done up to 1080i and there's an on-screen menu for control options. Through this PVR you can also scan storage devices for other types of media to interact with.
The Gefen SD-PVR, meanwhile, makes use of only attached USB memory devices for storage. It records in standard definition and, let the HD-PVR, can let you fast forward, rewind and pause video. You can connect up to three video sources and record video via an on-screen menu.