| | |
| --- | --- |
| | |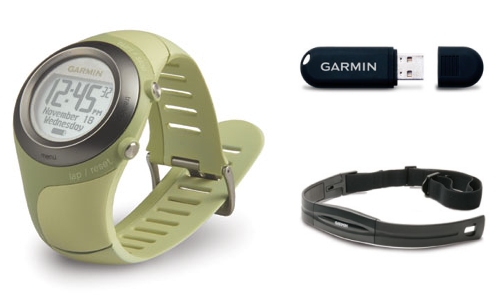 Garmin has a new exercise gadget debuting at CES this year called the Forerunner 405, designed for runners to aid in training and track routes. The new 405 is also a little more stylish than previous models with similar functionality, keeping the size to a minimum so the gadget doesn't look like such a gaudy chunk of electronics on your wrist.
The Forerunner 405 is GPS enabled and allows outdoor runners to keep track of their speed, distance, heart rate and location through the watch. This model also features a cool new bezel around the display that lets users navigate and change settings on the watch by simply tapping it and sliding their finger around the metal circle.
The watch houses some of the same functionality as previous models allowing runners to enter and track workouts as well as compete against a virtual partner through the watch. The data is then uploaded automatically and wirelessly when the watch comes within range of a computer with the software installed and the USB ANT stick connected. Users can then view and track their workouts through the computer as well as upload new workouts to the watch without connecting any wires.
Although there are some very nice conveniences with the Forerunner 405 with its smaller size and wireless data connection, the watch unfortunately has a pretty limited battery life compared to a normal watch. In training mode the watch will run about 8 hours before needing charing again, and will last up to 2 weeks in power save mode. Garmin says the 405 retail price will start at $299 and go up depending on the accessories that it comes with.
405, exercise, forerunner, Garmin, GPS