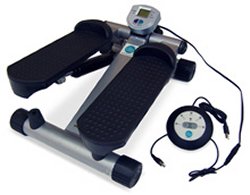 Wii Fit isn't the only way to get healthy. And even if you get one, that requires leaving the computer. Who wants to do that? The Gamercize PC helps make time for exercise while you're working at a computer/desk, reading your favorite gadget blog or whatever.
It works just like any step climber but it's connected to your keyboard and mouse, if you stop stepping, they stop working. So you certainly have some encouragement to keep going. You can burn up 400 calories an hour and it will record your process and keep you in touch with your goal.(Which is probably just to keep your keyboard and mouse working)

Myself, I'm chained to this desk for several hours a day, bringing you the latest news. This would be good for someone like me, but at $200 I think I'll just play the Wii on my off hours.