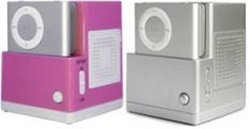 Speakers for iPod Shuffles are harder to find, compared to speakers for iPods, Nano's and even iPhones. Expect is here to help, with an update on the Cuby iPod Shuffle Dock. They have released some cool looking iPod shuffle speakers for the 2GB iPod Shuffle. They come in either pink or silver. Enjoy your tunes and charge all at once. It is powered via USB or batteries for a more mobile experience.
It's made to fit the 2nd generation iPod Shuffle and is designed to be nice and compact. It's kinda cute too. You just snap the Shuffle into the speaker dock and you're all set. It will only cost you $27.

The unit measures 6×5x5cm in size and only weighs 39 grams. Now you can share the sound with everyone. These are available for £13.99.
[iworld] VIA [Chip Chick]
Expect, iPod shuffle, portable speakers, Shuffle, Speakers