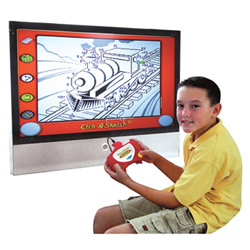 Etch-a-Sketch is finally coming into the 21st century. The Wired Etch-a-Sketch is the digital version of the classic toy that has entertained children as well as bored adults for the past several decades. The TV Etch-a-Sketch takes the toy to the next level.
It has a wide variety of new modes, like Cool Drawing Tools, Trace A Pic, Super Sketch and Connecting the Dots. The controller has the two classic Etch-a-Sketch knobs to keep the nostalgic feel of the original. What about shaking it and clearing what you've drawn? That's the most classic part, after all. Yes, it has that feature too. Just shake the controller and the screen will clear.

You can get one for just $13. Looks like a great upgrade for the classic toy.
[Deluxe TV Etch A Sketch] VIA [Dvice]
drawing, etch-a-sketch, Toys