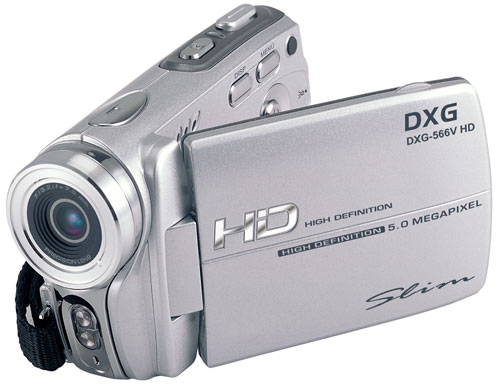 DXG USA plans to debut its first "low cost" high definition camcorder at CES. This camcorder is known as the DXG-566V HD and it is priced at around $150.
The DXG-566V HD is a five megapixel digital camcorder which will let you record in HD video resolution up to 1280 x 720 at 30fps and D1 resolution of 720 x 480 at 30fps. It sports a three-inch camcorder style flip-out LCD screen, memory storage via SD cards and 2x digital zoom.
DXG's newest camcorder is also capable of capturing digital pictures with a resolution of up to eight megapixels. Other features include a USB cable to transfer your digital photos and video, video output in 4:3 or 16:9 aspect ratios and a built-in LED flash. The DXG-566V HD should be available now.