| | |
| --- | --- |
| | |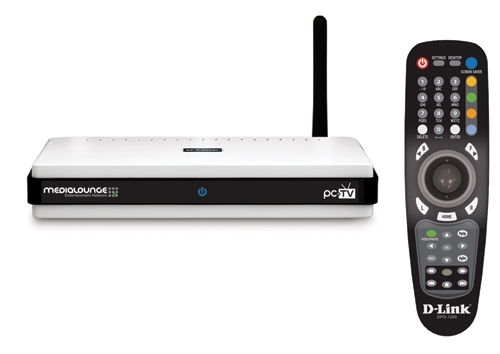 D-Link has a new networking product that they are unveiling at the Consumer Electronics Show this year, boasting the ability to bring videos, movies and photos wirelessly from a PC to a television or projector, getting your online video content into your living room. The D-Link PC-on-TV (DPG-1200) receiver connects to your television through composite or component cable connections and streams content from your PC through WiFi.
The press release from D-Link talks about using the system to stream media content to your television which is the most likely use for many people, and says it is media player-independent, allowing viewing of just about any media player that plays on your PC like YouTube, iTunes, Windows Media Player, etc. You can also view an internet browser or play some online games through the system and navigate the display with an included remote control and trackball. Our interpretation of this is that the device really does what the name says: "PC-on-TV". The ability to play media and view photos on your television is a big part but seems to be focused on for marketing purposes.
It's not very clearly stated in the press release but it appears that the new D-Link receiver simply brings your PC display to your television and shows whatever is on it, basically providing a wireless monitor that can transfer pictures fast enough to show 640×480 video at up to 30 frames per second. This allows you to have a PC connected to your TV but letting the computer be across the room or even in a different room, connected via WiFi. Combine this with a wireless keyboard and mouse and you could have a pretty nice set up without requiring the PC to awkwardly sitting out in your living room.
D-Link says the PC-on-TV system will be available sometime in Q1 of this year retailing for $199.99, which is a pretty reasonable price if the system can relay the display in a relatively timely manner.