| | |
| --- | --- |
| | |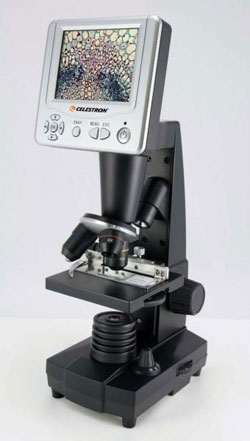 A USB microscope is only one of the cool new science gadgets that Celestron is showcasing at this years CES 2008 conference. The company is also going to be showing off this LCD Digital Microscope (LDM) that's targeted for everyday science enthusiasts and features a built-in, high-resolution 3.5″ LCD screen to view your various microscopic items.
The LDM has multiple magnification levels including 4x, 10x, and 40x, and a 4x digital zoom giving it the ability to view things up to 1600 times their actual size. With this microscope, squinting through an eyepiece to share with others is just not necessary due to that handy color LCD screen.
In the event that you'd like to share your minuscule findings with others who are not in the room you can also use the LCD microscope to snap 2 megapixel photos or even take short videos of what your viewing. The microscope itself has 128MB of internet storage and comes with a USB cable that connects to a computer to transfer the photos and video.
The Celestron says their LCD microscope retail for $299.99 and be available nationwide starting around February, 2008.
Celestron, CES 2008, LCD Microscope, Microscope