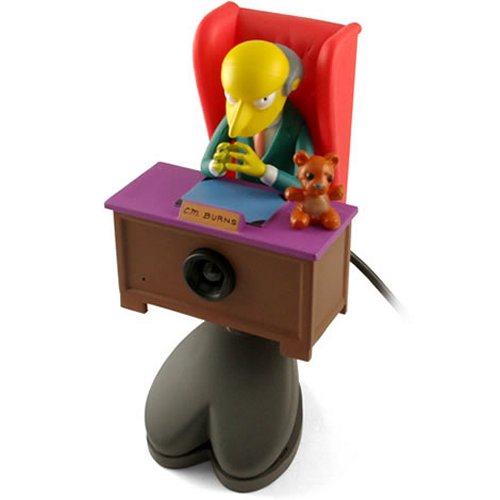 Now you can feel like those suckers putting in a full day at the Springfield power plant. That is, you'll be under the watchful eye of C. Montgomery Burns with this webcam. You'll know exactly how Karl and Lenny feel, not to mention Homer. Don't fall asleep with a donut in your mouth.
The webcam includes a large clip that allows it to be attached to your flat-panel monitor or laptop screen. Specs: 30 fps @ 640 x 480 with built-in microphone, supports USB enabled machines running Windows 98, 2000, XP and Vista, runs with Skype, MSN Messenger, Yahoo! Messenger and AOL messenger. You can pick up this little tyrant for $49.99.

I'm thinking you'll want a Smithers webcam to go with him. I mean, he's nothing without his lackey.
[Think Geek] VIA [Geek Alerts]
burns, Simpsons, springfield, USB, webcam