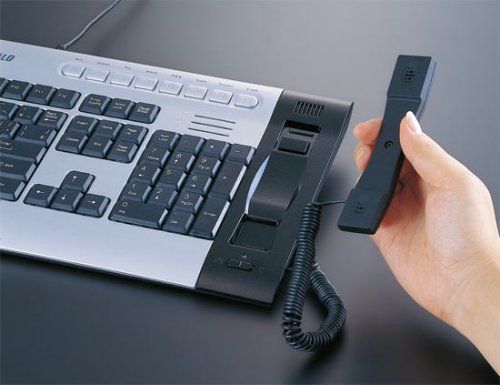 With the BKBU-SKJ109/SV Buffalo keyboard and built-in Skype phone, you'll have everything you need to communicate with the outside world right at your fingertips. This would be a great addition to any evil villains HQ, whether your mind is on the business of the day or taking over the world by night.(Though you might look a tad dorky on the phone as it looks a bit like a toy.)
The receiver is Skype certified, so it's pretty much ready to go. You just need Skype on your machine and the appropriate software. The downside, as mentioned earlier is that the set is pretty small. I know they didn't want to make the keyboard larger then necessary, but it is a bit funny looking. That's okay though, once you take over the world, no one will laugh. Until then just tell yourself size doesn't matter.

This will be available in Japan in October for about $65.
Buffalo, keyboard, Skype