| | |
| --- | --- |
| | |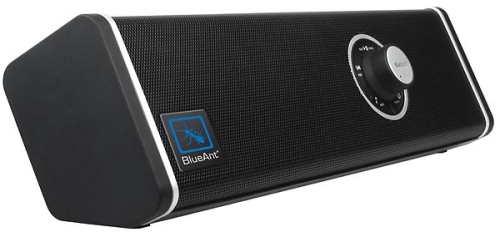 Australia based BlueAnt recently unveiled a new wireless Bluetooth speaker this week at CES in Las Vegas, bringing a quality Bluetooth speaker product that's completely wireless for a $199 price tag. The price point on the BlueAnt M1 might be a little higher than other wireless speakers for your portable devices, but BlueAnt's goal is to "…fill lack of good quality portable stereo speakers in a market that is saturated with cheap, terrible sounding boom boxes.", according to BlueAnt CEO Taisen Maddern.
The BlueAnt M1 features an output of 28 watts RMS, rechargeable batteries that will run the device for around 10 hours at a medium volume level, and is compatible with any Bluetooth A2DP device including computers, PDA's and mobile phones. In the event that you want to use the speakers with your non-Bluetooth media player it also sports a 3.5mm jack to connect directly.
The speaker box measures just over a foot long with dimensions of 12.4″ x 3.5″ x 3.4″, and BlueAnt is making the M1 Bluetooth speaker available sometime in the first quarter of 2008.