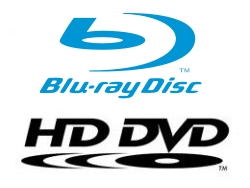 Just earlier this week Warner Bros. Entertainment, the studio with the industries largest selection of movies, changed the tide in the high definition format war in favor of Sony by announcing that they are going with Blu-ray discs exclusively. Warner's intention was to end the battle and consumer confusion hopefully resulting in improved DVD sales in 2008. It appears their move just might be working as Variety states they have confirmed information that Universal, who previously has been HD DVD-exclusive, has ended their promise to continue with HD DVD only and could possibly be making a change to Blu-ray.
Paramount along with Universal are two of the big seven studios that have been hanging on with Toshiba and HD DVD, but they too have a clause to produce Blu-ray as well after Warner's decision. Back in June of 2007 Blockbuster also made a move to Blu-ray over HD DVD which combined with recent news is making things look very grim for the HD DVD future.
Universal hasn't announced to end producing pictures on the HD DVD format quite yet, and even Warner is going to finish out with HD DVD for another few months which means that even if Blu-ray comes ahead it will not be happening over night.
Blu-ray, HD DVD, Toshiba