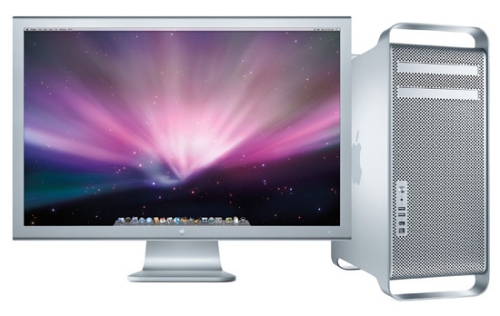 Even though Apple's MacWorld is only a week away we wouldn't expect Jobs and company to just stay quiet during the whole week of CES, patiently waiting for their time. Today Apple unveiled the new Mac Pro and the Xserve both with the ability to be powered by up to 8 processor cores.
The Mac Pro houses two of Intel's 45nm Quad-Core Xeon processors at up to 3.2GHz giving it twice the power of the prior model. It comes packing a 1600MHz front-side bus and as much as 32GB of 800MHz memory, ATI Radeon HD 2600 XT graphics card with 256MB, dual gigabit Ethernet and 4 available HDD bays that combined can bring 4TB of storage to the new Mac Pro. Also, the number eight is most significant here with processor cores but it's also the number of 30-inch monitors that can be driven by the computer.

The new Xserve rack-mount system from Apple also boasts 8-core processing with it's Intel Xeon 5400 chips, 3TB of internal hard drive and 32GB of memory. It also has speedier memory with a 1600MHz system bus and 800MHz memory. It also features a couple of PCI expansion slots and an easily accessible USB port on the front.
This announcement is a little bit surprising as we would think Jobs would want to save some big announcements like this for his own conference next week, but maybe Apple has something even bigger on the horizon? Both the Mac Pro and Xserve are available now from Apple with the Mac Pro starting at $2,799 and the Xserver starting at $2,999.