| | |
| --- | --- |
| | |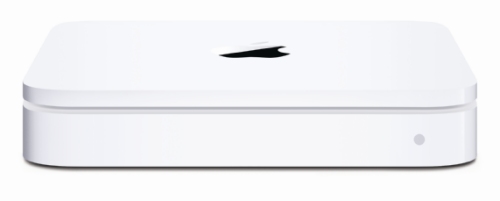 As part of the announcements at the MacWorld keynote speech today, Steve Jobs introduced the new Apple Time Capsule – a appliance designed to help facilitate wireless, automatic data backups from all the Macs in your home. The device works with machines running the Leopard OS along with the Time Machine software to automatically create back ups of everything on your Mac computer, hourly if you would prefer, and from multiple different Macs.
The Time Capsule coincides well with the launch of the MacBook Air since one of the common needs for an optical drive is to back up data. Since the Air doesn't have an internal CD or DVD drive the Time Capsule makes a nice solution to provide wireless data backups to the notebook. The integrated software lets users look through history for lost files or even restore the system to a previous point in time.
Time Capsule comes is capacities of 500GB for $299 and 1TB for $499, but is more than just a backup appliance. In order to transfer data wirelessly it needs to have its own wireless connection, and since it does Apple has designed Time Capsule to double as a Wi-Fi base station allowing up to 50 users to get Wi-Fi access and access to the backup device. The base station portion of the appliance offers 802.11n technology giving faster performance and a greater range than the currently common 802.11g networks. Apple is going to start shipping the Time Capsule in February.
Apple, backup, Time Capsule, Time Machine