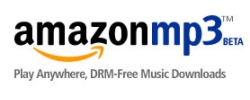 Amazon today announced plans for an international rollout of the Amazon MP3 music download service to take place sometime yet this year. This announcement is probably the biggest threat to Apple's mammoth iTunes to date as it likely to cause the reining media download leader to make some changes in coming months to keep up with the competition.
Once Sony BMG came onboard Amazon became the only online retailer to offer downloadable MP3′s from all of the four most major music labels that are all also DRM-free. Amazon MP3 now boasts over 3.3 million songs available with no restrictions on what player or computer the songs can run on, and no restrictions of how many places users can copy it to.
All songs are priced at 99 cents and almost a third of them are only 89 cents and recorded at 256kpbs without the copying restrictions, compared to iTunes Plus with a $1.29 rate on a limited selection DRM-free music at the same higher recording quality.
Aside from the broad timline of the year 2008, Amazon is not disclosing exact dates of when the international Amazon MP3 websites will actually launch.

Amazon MP3
Amazon, amazon mp3, Apple, DRM, iTunes, MP3, music, music downloads, music service