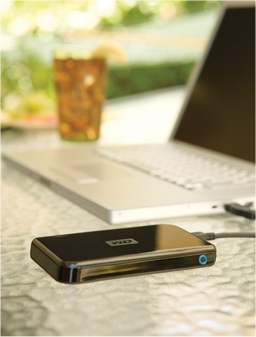 If you thought you had a big drive in a small package with Western Digital's 250GB Passport you can think again. Hopefully you've come to expect it these days because soon after you get the biggest and the best something else will come along to out-do it.
WD has announced the launch of the latest in their line of the sleek, portable Passport drives with this one boasting a massive 320GB capacity of storage that is small enough to fit in your shirt pocket. The whole drive and enclosure weigh under a quarter of a pound does not require an external power source. The drive gets its power and transfers data through a single USB 2.0 connection and gives a 480 Mbps transfer speed (which will take you an hour and a half to fill the drive).
The drive also comes with some software from Google to help you quickly search the mass of data and allows some encryption of your files when used with Windows, although it is compatible with both Windows and Mac. Retailing at $229.99 this drive is really not too bad of a deal, and even though I really don't need a full 320GB of storage for some reason I still want to get one.
320GB, Hard Drives, Passport, WD, Western Digital