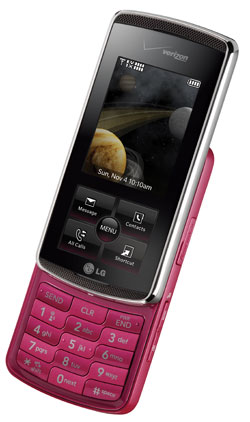 Verizon Wireless and LG today added a new color to their Venus mobile phone: pink. This new LG by Venus phone is priced at around $200 after rebate and contract.
The pink Venus by LG is the same as the current model in Verizon's line up except for the color. It is a slider design which provides you features like a two-megapixel digital camera, microSD expandable memory and support for mobile Web content. It can also play music files from formats like MP3, WMA and AAC.
Other features of the pink Venus include Bluetooth support and a lower screen with touch navigation. This phone should be available now.