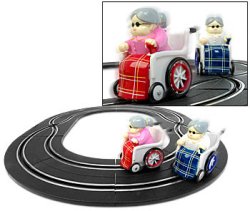 Track Racing Grannies. Or as I like to call it Geriatric Kart racing. If you ever wanted to pit two elderly knitting machines against one another in a nail-biting slot car race, here's your chance to see what happens. The only way this could possibly get any better is if they said things like, "Just a minute, let me count my change." or if there were a few more "cars" on the track like old coots in rocking chairs maybe and nurses.
Basically, Edna and Betty are ready to race in their wheelchairs and on occasion careen off the track due to your need for speed. Each granny has an individual speed controller and the set will require 4 x AA Batteries (not included). The track measures 64.5 x 48 cm.

This is sure to be a hot item. Who doesn't love Grannie against Grannie action?
[Product Page] VIA [Gadgets-Club]
Games, granny, racing, slot car, Toys