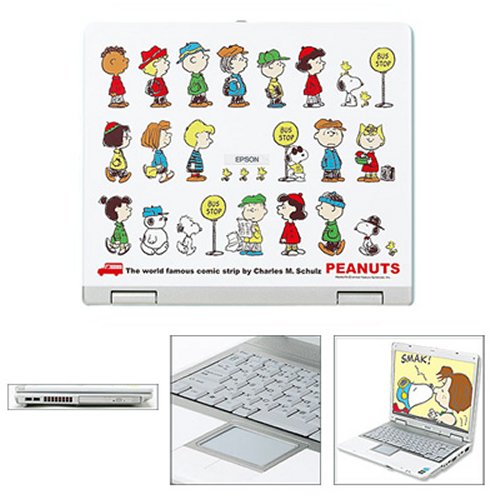 I've never been a big fan of the Peanuts gang myself, but apparently Epson is betting you are if this Laptop covered in Peanuts characters is any indication. Previously they offered us some Hello Kitty Laptops, so I guess they see the potential to branch out to other characters.
Make no mistake, this is not just a laptop with cartoon characters slapped on the case. It also comes loaded with Peanuts screensavers and wallpapers, icons and mouse pointers. The laptop itself features a 15 inch screen, a 1.73mhz Celeron processor, 1GB of ram, an 80GB hard drive, 4 USB ports, a CD burner / DVD drive, and it comes with Vista Home Premium. Obviously not all that awesome these days, but to a Snoopy lover, it just might be worth the outrageous price of $2,799.

Say, I wonder if it converts the patented Peanuts adult gibberish that you hear when adults speak in the Peanuts world. Waa-waaa-waa. Maybe Lucy will pull your laptop away everytime you go to use it, like Charlie Brown's football.