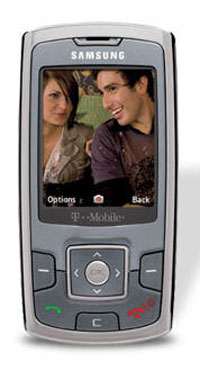 Samsung and T-Mobile are teaming on a new mobile phone which supports the latter's HotSpot @Home service for placing calls over 802.11 wireless networks. The Samsung Katalyst is priced around $80 with rebate and service plan.
The Samsung Katalyst is a slider style cell phone which lets you make calls over wireless Internet networks such as those found on your home network or at T-Mobile Hotspots. The call can be carried over to T-Mobile's regular network when one leaves a wireless zone. One can instant message with others on several different networks using the Katalyst and also make use of wireless Bluetooth technology for hands-free communication.
Other features of the Katalyst include a 1.3-megapixel digital camera built-in, expandable microSD memory, quad band ability and a weight of 4.1 ounces. This phone is available now.