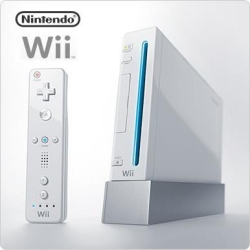 As if it hasn't been hard enough to find a Nintendo Wii game console this year, rumor has it that a retail chain called Slackers is taking their shipments of the popular console and selling them on Ebay at a jacked up price.
According to Ars Technica an insider with Slackers stated that any Wiis that they receive, at least in the Illinois/Missouri area stores, are not available for the suggested $249 retail price at the store and are instead marked up to $499 on Ebay. Recently reports say that the Buy It Now price has been dropped to $399.99, which is still $150 over suggested retail by Nintendo.
Nintendo has made it pretty clear that they do not like the price hikes retailers have been doing with bundles and are already having trouble making future plans with the shortages. As far as we are aware Nintendo cannot dictate how the retailers are to sell their shipments of the Wiis but according to Reggie Fils-Aime, president of Nintendo of America, the company can use the power of their product to make some strong suggestions.

"We don't have to remind retailers of the strength we have right now. We are simply making an observation and that reinforces our point quite nicely with retailers," Fils-Aime said in an interview with Reuters.
It's unlikely that Nintendo could do much about Slackers marking up the Wiis on Ebay, but it IS likely that if this rumor is true, Slackers may not be seeing many more Wiis come their way in the future.
eBay, Nintendo, retailers, Wii