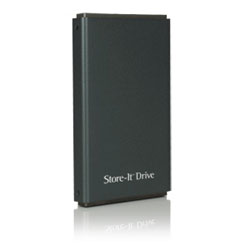 Pexagon Technology, a developer of personal storage solutions, is offering now for sale what it is describing as the world's first personalized 250GB portable hard drive. This offering is part of Pexagon's Store-It Colors hard drive line and it is priced at around $200.
This Pexagon 250GB hard drive can be customized via a free custom laser engraving service. With it one can put personalized text or a logo to create a "unique and identifiable solution." The drive itself is a pocket sized model which holds a 2.5-inch hard drive and is USB 2.0 compatible.
The Pexagon Store-It Colors drives in general are available in six body colors and work with both Windows and Mac operating systems. The 250GB model specifically is available now.