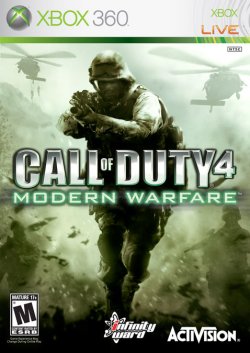 The marketing research firm NPD has turned in their analysis of what the top video game titles and consoles were last month and the news is very good for the industry as a whole. Leading the top in sales of new software was Activision's "Call of Duty 4″ for the Microsoft Xbox 360 which sold an impressive 1.57 million copies. Nintendo's "Super Mario Galaxy" came in second place and if you combine the Xbox 360 and PlayStation 3 sales for "Assassin's Creed" it would actually take the silver medal. Not coincidentally Ubisoft's "Assassin's Creed" has emerged as the best-selling new IP for games in recent years.
Nintendo's handheld DS gaming device sold an amazing 1.53 million units in November which was enough to give it the top of the chart for hardware sales. In second place was Nintendo's Wii gaming console with 981,000 Wiis sold followed by Microsoft's Xbox 360 in third spot with 770,000 units finding homes. Sony moved 577,000 PlayStation Portable to give it fourth place and the price drop in the PS3 convinced 466,000 consumers to go out and buy one of the consoles last month.
In all the total American sales of video game software and hardware for November was a combined $2.63 billion, up a whopping 52% from $1.74 billion achieved in November 2006. Four of the top 10 bestselling games for November were for the Xbox 360, three were for the Wii, two for the PS3 and one for the PS2.
1. Call of Duty 4 (360) – 1.57 million
2. Super Mario Galaxy (Wii) – 1.12 million
3. Assassin's Creed (360) – 980,000
4. Guitar Hero III (PS2) – 967,000
5. Wii Play (incl Wii Remote) – 564,000
6. Mass Effect (360) – 473,000
7. Call of Duty 4 (PS3) – 444,000
8. Guitar Hero III (Wii) – 426,000
9. Halo 3 (360) – 387,000
10. Assassin's Creed (PS3) – 377,000
via the Guardian