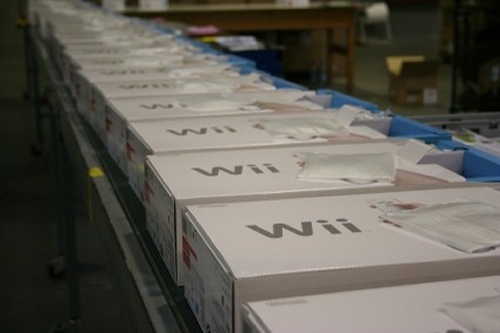 Anyone that's been interested in buying a Nintendo Wii this holiday season is aware of just how difficult it has been to get one and people are capitalizing on that fact, and so are many retailers. I purchased a Wii months ago that I had to stand in line one early morning to get, and even then I had to buy the $250 console bundled with two games for a total of $350. The Wii has seen a shortage for a year now and Nintendo says the lack of consoles available to meet demand is tough on planning for the company including creating any planning or promotions for new games. However, I can think of worse problems than having a consistently higher demand than supply.
According to Reggie Fils-Aime, president of Nintendo of America, Nintendo is also discouraging the practice of bundling the console itself with other items since the Wii loses its price advantage over competitor consoles like the Xbox 360 or the Sony PS3, but it is ultimately up to the retailers how they decide to sell the console. He also added that the power Nintendo held over what retailer they would ship consoles helped retailers adhere to the companies suggestions.
"Retailers have already been given feedback that we are not big fans of that. We think it masks some of the price advantage we have versus our competition and, frankly, the consumer should decide what they want," Fils-Aime said.
One offer that may help thwart some of the high-priced console bundles and lets consumers buy a Nintendo Wii alone at suggested retail is the Wii rain check program offered by GameStop and Nintendo. Consumers wanting to buy a Nintendo Wii can stop by a local GameStop retailer and reserve a Wii for pick-up sometime before January 25. You will receive an empty game case with a slip inside that guarantees you a console, and GameStop will give you a call when it arrives.