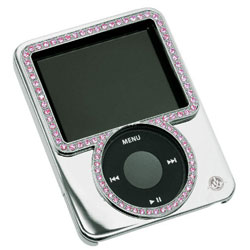 Does your iPod yearn for more than the average looking case? How about one set in 14-karat gold. Metallo Design, a designer of luxury products, is set to outfit your iPod in its own take on iPod cases. The new Gilty Couture line prices from around $55 to $200.
The Gilty Couture cases are made of metal and designed to protect your iPod as any other hard case would. Where they vary is that each hand-crafted case "eatures brilliant bezel style settings with opulent Swarovski crystals, and each piece is draped in 14-karat gold or silver jewelry quality plating."
Metallo said each case comes in its own designer box and includes a "micro polish storage and cleaning pouch." The cases will offer full access to an iPod's functions and connections and have on the inside an EVA foam interior lining for added protection. The Gilty Couture line should be available now.