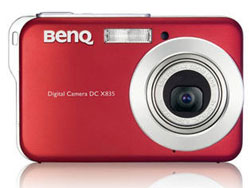 BenQ is coming to market soon with a stylish, slim new eight-megapixel digital camera. The new BenQ DC X-835 does not has yet have specific pricing or availability information.
The BenQ DC X-835 is fairly thin, measuring 12.5mm. In this camera is packed a Pentax 3x zoom lens, 2.5-inch display and a high sensitivity of up to ISO 6400 on movie mode and ISO 2000 in shooting mode. In movie mode you can also capture MPEG-4 movies in VGA 640 x 480 pixels (30fps).
Other features of the DC X-835 include 3:2 or 16:9 output size, adjustable brightness of a subject, multi-face tracking, a maximum 30x zoom effect and a shake free picture taking mode. It will come in red and black body colors.
BenQ DC X-835 [via SlashGear]