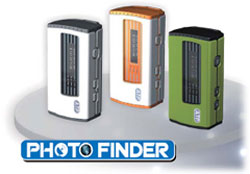 Want to be able to geotag digital photos you've taken while out in the field so you always remember where it was taken? ATP has announced a new device while will let you do that – the ATP GPS Photo Finder, priced at around $130.
The ATP GPS Photo Finder allows you to tag your photos with GPS coordinates so you can find the locations they were taken. You plug your camera's memory card into the Photo Finder's built-in card reader or USB port, and it automatically finds and tags your images without any additional software or hardware. Pictures can currently be viewed using software such as Picasa and Google Earth which support geotagging.
ATP said its GPS tagging device is universally compatible with any digital camera using jpeg image files. It is slated to be available early next year.