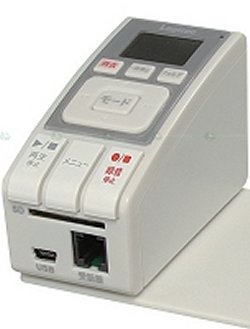 The MP3 Telephone Recorder ia capable of recording up to 50 hours of conversation on it's internal 128MB flash memory. The recording device fits between the handset and the actual telephone, and gives you the option of manual or automatic voice-activated recording.
Playback is in a non-standard audio format to prevent the unauthorised use by someone other then yourself. Connect it to the PC via USB socket and use a password to access the memory on the device. At that point the software converts the non-standard format into MP3 as the password decrypts the audio stream.

It looks like these are exclusively in Japan at the moment. American's probably would not like it as it isn't very covert or cool looking.