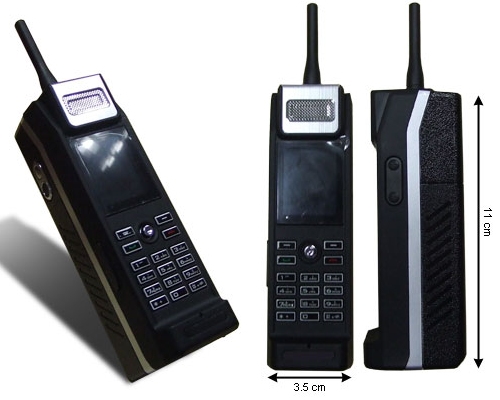 The makers of the Mini MOB mobile phone apparently feel that a little nostalgia might help spur some mobile phone sales, letting the cutting edge business man of the 80′s relive the days of carrying a brick-style phone around (unfortunately there doesn't appear to be a super-sized charging cradle to match).
Like the Brick Phone we saw earlier this year, the Mini MOB does bring some modern features into their neo-brick including a camera, MP3/MP4 player and a miniSD memory card slot and an included 128 MB card. The phone is also slightly smaller than those heavy solid models of 20 years ago measuring 11cm tall by 3.5cm wide (and an estimated 4cm deep). It comes with two batteries that are charged through a USB cable and take advantage of the extra size with 30 days of standby and 3 days of continuous talk time.
Also like mobile phones in the 80′s the Mini MOB is not relatively cheap with this model running £136.17 (about $281 USD) at GadgetsArcade.
TechDigest via Gizmodo