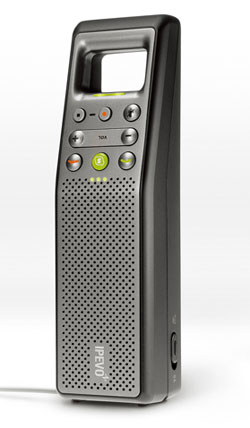 Ipevo, a developer of hardware which lets users access Web services like Skype, announced today the U.S. availability of a three-in-one Skype phone. The Ipevo Trio is priced at around $80.
The Ipevo Trio combines a speaker phone, conference phone and personal handset into one unit. It can be used either in an upright stance, lying flat on a table or held in one's hand. It's tied into the Skype VoIP service and requires a USB connection to a host computer to be used.
Other features of the Trio include built-in voice recording, quick toggling between speaker and handset modes, a hollow mouthpiece design to cut down on echoes and two different body colors. It is available now.