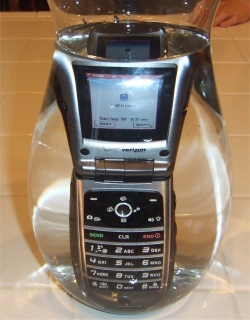 Anytime waterproofing is added to a gadget it just seems to make it that much more cool, but unfortunately not many electronic devices are able to live through being accidentally dropped into your Mai Tai or withstand a simple vodka resistance test because the the difficulty and expense of making small seals for all those cracks and crevices.
Well, thanks to some scientists at the Defence Science and Technology Laboratory in Porton Down, Wilts. who originally developed the technology, gadgets may soon be getting something called an Ion-Mask coating to provide waterproofing to all sorts of devices. The Ion-Mask was a military technology originally designed to protect soldiers clothing from chemical attacks but soon could be used to protect mobile phones and media players from moisture, rain and the occasional drop in the drink.
The technology involves applying a layer of electronically charged gas to the device which bonds to it and causes water and oil to bead up and run off instead of soaking into it. How it would work if you needed to change out your battery or a SIM card is unclear but anything that will help allow me to use push-to-talk while snorkeling is cool with me.