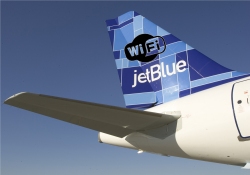 JetBlue recently announced that they along with Yahoo and RIM will be offering internet access through Wi-Fi connections during their flights. The airline is currently going to run a trial of the service giving passengers free, in-flight access to their Yahoo email and IM services and allowing Blackberry users access to email and IM as well, but phone calls using the mobile devices are still prohibited. If the trial goes well JetBlue expects to give full Wi-Fi access to passengers, making those long trips much more tolerable and productive for many business travelers. Even though cell-phone use is still not allowed passengers could possibly make VoIP calls through services like Skype.
Since JetBlue made their announcement other airlines have also now announced plans to offer Wi-Fi internet access to passengers during flights. American Airlines (AA) has released information of their intent to partner with AirCell to provide broadband speed internet through Wi-Fi connections to its passengers. Testing has already began and the service would start on some transcontinental flights and eventually spread to all AA flights if the trials work out. AA says they will offer the Wi-Fi service for $10 fee as apposed to a free service as JetBlue is planning, but for many business travelers the amount of work that could be accomplished on long flights would far outweigh the small fee. They hope to have access available to all passengers as soon as 2008.
Both Alaska Airlines and Virgin America have also made similar announcements with plans to bring wireless internet access to their passengers, both by 2008 as well. Once this type of service is widely available the next limiter will likely be notebook batteries to keep those laptops running with Wi-Fi connections during a flight, unless these airlines also start putting power connections in coach.