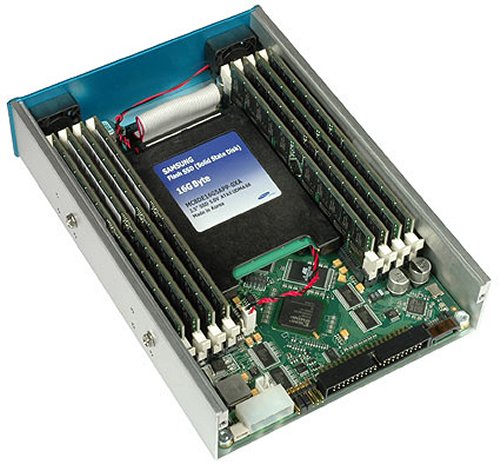 The HyperDrive4 SSD is the fastest internal HD in existence. It fits into a standard 5.25″ bay using an IDE or SATA connector. No conventional NAND flash ram here, it uses up to 8 DDR sticks at 2 gigs each.
Not impressed? To quote Yoda, "You will be." The manufacturers claim that the HyperDrive4 can get files 8,000x faster than a 10,000 RPM HD, and serve them 125x faster. What that means is you can fully install Windows XP in about 7 minutes. It will go from boot to desktop in 2 seconds flat. There is one large drawback though, not including the $5000 price for the 16 GB version. The memory is volatile, which means in order to retain data, it has to be powered on all the time.

If you have money to burn, a need for insane speed, and a desire to be powered on at all times, this is the HD for you.
[HyperOs Systems] VIA [OhGizmo]