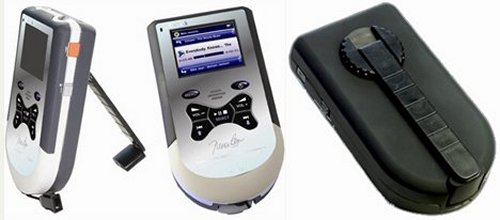 I got my Eco Media Player about 2 weeks ago and I've been checking out it's various functions. The device has several features like a video player, music player, fm radio, LED torch, photo viewer, hi-fi recorder, memo recorder, data storage device and a mobile phone charger. You charge the device via USB, but if you don't have a computer nearby it can be hand cranked to recharge the juice via a fold-out handle on the rear.
They claim that 40 minutes of audio play requires only one minute of self powering. Actually when I put that to the test I got a whole lot more. Closer to 2 hours. I don't know if that is typical or not, but I let the battery deplete to nothing before I wound it. So that was a plus. I loaded a few videos and the conversion software is pretty effortless. The quality of the video is surprisingly crisp and clean for the small 1.8″ color screen. No complaints there.
Of course being a "green" media player that has the ability to be self powered, it is by no means an iPod. It's not trying to be. It's a bit thicker, but is very comfortable in your hand. Basically you just hook it up to the PC with a usb cable and drag songs from one folder to the eco. It comes with 2GB internal memory, but you can get more with an SD card. So far I have about 150 songs on it and I've only used up about 20% of the memory.
The navigation leaves something to be desired. It's not as immediately friendly as an iPod or or other devices, but once you get used to it, it's pretty basic.
The voice recorder is pretty straight forward too. Just speak and record your voice and play it back when you need to. It even has an e-book option that's pretty much just a text file. The photo viewer can display single pics or display them in a slideshow. The FM radio is great, you just can't play it with the built in speaker since it uses your headphones as an antenna.
It definitely takes some getting used to, but the bottom line on this one is that it's good for people who travel alot and don't mind taking the time to get to know the device. People who want to load it up with media and leave it there to amuse themselves on trips and always have it at their fingertips. A set it and forget it type deal. Overall, I'm very impressed, it just needs better navigation.