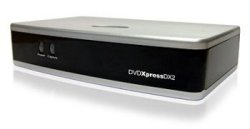 The DVD Xpress is aimed at that demographic who do not like to buy DVDs or just take awhile to get with the program. As long as you have a VHS version and the DVD Xpress home video archiver, you can turn your videos into digital versions. Store them on your hard drive or burn them to DVD. It also lets you
create movies for playback on your iPod or PSP.
It hooks up to your PC via USB. Then connect your camcorder to the video/audio inputs on the DVD Xpress. Put a blank DVD disc into your PC, press play on your camcorder and burn a copy automatically to DVD. It's that simple. You better get started archiving all those precious family movies and bringing them into the digital age. May your embarrassing moments live forever. You can get the DVD Xpress for $80.