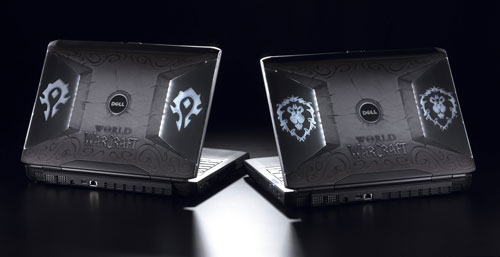 Alliance or Horde? That's the question Dell and Bizzard Entertainment are asking you to consider as you choose which new World of Warcraft themed gaming laptop you want. The new Dell XPS M1730 World of Warcraft Edition notebook PC has a starting price of around $4,500.
The XPS M1730 World of Warcraft Edition notebook PC seems to be fully geared towards the World of Warcraft diehards. You can pick from one of two laptops emblazoned with the Alliance or Horde logos in addition to other WoW artwork. The computers in this line can be outfitted with an pptional over-clockable Intel Extreme Edition Core 2 Duo processor, up to 3.4GHz as well as NVIDIA SLI graphics power and 512MB of dedicated video RAM with DirectX 10 support. The M1730′s monitor is 17-inches of high definition viewing fun.
In addition to advanced tech specs this Dell gaming machine also comes with a whole bunch of WoW specific merchandise. This includes WoW software preloaded on the laptop, a "Quest Envelope" which offers special rare game items and a WoW themed backpack loaded with more software and other media. The whole XPS M1730 World of Warcraft Edition package will be available later this month.
XPS M1730 World of Warcraft Edition
Dell, laptop, World of Warcraft, wow