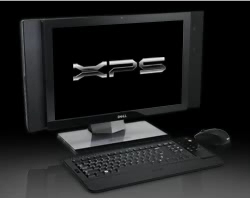 Dell announced on Thursday that in the next few weeks the company will be offering a number of its computers for sale directly through Best Buy retail stores across the country as they continue to increase their exposure through retail stores in the U.S. and around the world. The Dell computers will be going to 900 different Best Buy locations around the country which will make the Dell line of PCs available in a total of almost 10,000 stores around the world.
Dell notebooks that will be offered at Best Buy stores include a white Dell XPS M1330 and the Inspiron 1521 and 1420. The electronics retail giant will also have the Dell XPS One and Insipiron 530, 531, and 531s desktops with more color varieties in the works. The time line for the availability of these computers mean that they won't quite make it to shelves for Christmas but should be available in January if you find your self with a Best Buy gift card after the holidays.
"Dell is clearly one of the most popular and successful PC companies and their addition to our retail and online selection gives Best Buy customers unprecedented choice when buying a computer," said Dave Morrish, senior vice president for Best Buy's mobility business unit.
This choice includes other major computer manufacturers that already have strong place on Best Buy shelves including Acer (Gateway), HP, Toshiba and of course Apple. Dell computers can also be found at other retail stores in the U.S. such as Wal-Mart and Staples, and can be found at a number of retailers over seas including Carrefour, Courts, Gome, Bic Camera Inc. and Carphone Warehouse.