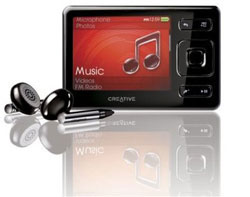 One common compliant of flash-based portable media players is they don't have enough storage for all of your media files. Creative is today challenging that issue by globally releasing a new 32GB version of its Zen player. It will price for around $330.
This 32GB Zen from Creative will reportedly be the world's first flash memory based PMP of this size. Creative says it will be capable of holding up to 8,000 songs, 110 hours of video or thousands of photos. It offers up a 2.5-inch color screen for viewing and will let you get up to 30 hours of music or 5 hours of video playback before needing a recharge.
Other features include support for MP3/WMA/AAC music formats, including select subscription services, expandable memory via a built-in SD memory card slot and FM radio. It will be available in select world markets in coming weeks.
32GB, Creative, Flash Memory, Media Players, zen