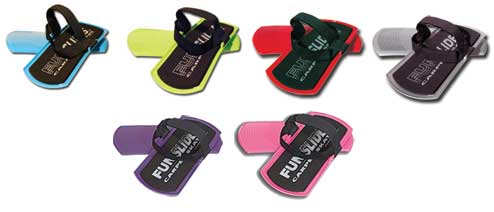 Cue classic Bob Seger song. Put on your shades. Have your fake mic ready. Then do the "Risky Business" slide and be just like Tom Cruise…On your carpet.
Sliding is easy with socks and a smooth floor. It's damn near impossible on carpet. Thanks to the carpet skates from fun slides, it's easy to slide across a carpet with ease. In fact, this puts an entirely new spin on indoor horseplay. Think of all the trouble you can get into. Think of all the breakables. The skates have a friction resistant and foam foot grip. Just strap them onto your shoes and slide with ease. They come in 6 colors. Just $19.99.

Man, this makes me wish I could just zip across my carpet right now. Think about the new sports you and your friends could create. They also have alot of other cool products for hours of indoor fun, like carpet Hockey.
[Product Page] VIA [Funslides]